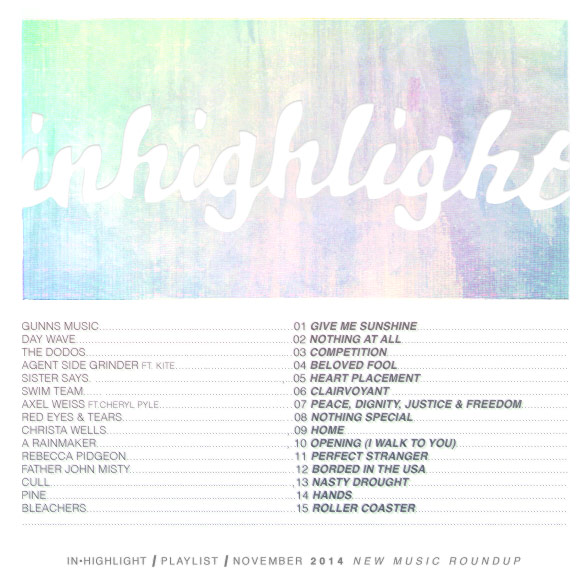 This month's playlist round-up is a cool breeze of seasonal, dark lo-fi rock and an assortment of other indie pop, acoustic and otherwise experimental jams.
In addition to many other favorites we found exceedingly noteworthy along the way, of the different November 2014 new music announcements and reviews we've done this month, several we've chosen to include on this month's New Music Round-up! Check it out!
Thanks for checking out our monthly new music playlists, get in touch with us on Soundcloud to keep up with our latest favorite selections.
Gunns Music – Give Me Sunshine

Day Wave – Nothing At All

The Dodos – Competition

Agent Side Grinder – Beloved Fool ft. Kite

Sister Says – Heart Placement

Swim Team – Clairvoyant

Axel Weiss – Peace, Dignity, Justice & Freedom ft. Cheryl Pyle

Red Eyes & Tears – Nothing Special

Christa Wells – Home

A Rainmaker – Opening (I walk To You)

Rebecca Pidgeon – Perfect Stranger

Father John Misty – Borded In The USA

Cull – Nasty Drought

Pine – Hands

Bleachers – Roller Coaster
Recent Playlists